TRIBUTE TO THE AMC PACER
by Steve Mobia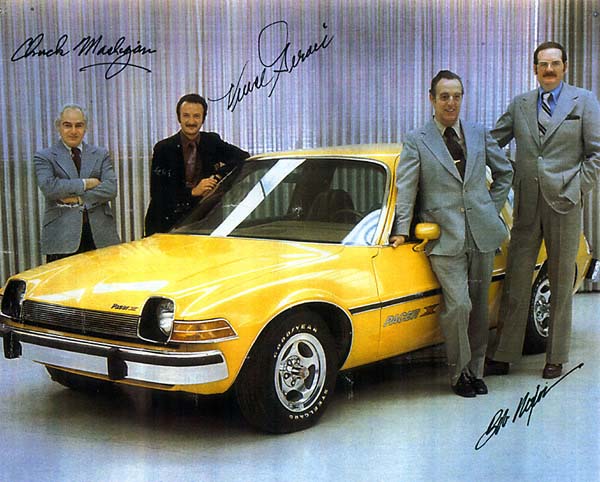 Those AMC folks who gave birth to the Pacer in 1975 (designer Dick Teague is next to driver door)
I've always had an attraction to the original and eccentric, often neglected things in the world. One thing I never liked was the status symbol aspect of cars; as demonstrations of wealth or macho power. Though I lived completely without a car for several years after moving to San Francisco where the bus system was so good and parking so poor, after starting as a Cabbie, I needed to get home at 5 in the morning when buses were scarce. My first San Francisco car was an old cab purchased for $400 from the company I worked for. As you might guess, the thing had been around the block a few too many times. Luckily someone with insurance backed into it in a parking lot while I was nearby.
Having some new money to work with, I thought about what might be an affordable interesting car to own. My thoughts drifted back to car designs I loved when in college. I was driving a 1966 Mustang while in college but preferred the Gremlin and the Pacer. As I found out, both these automobiles were designed by the same guy, Dick Teague from AMC. After doing some research, I determined that the futuristic Pacer was the most interesting and I commenced searching for a decent Pacer in earnest. It took over 6 months of 1986, searching far and wide before landing a beautiful 1979 Pacer limited — a luxury model with leather seats, power windows and locks, etc. Wow, such a rare vehicle, and in very good condition. They didn't sell many Limiteds.
| | | |
| --- | --- | --- |
| | | The Pacer Limited was AMC's luxury model with leather seats, power windows and locks, sound proofing, rear window defogger, among other ammenities. A V-8 engine was optional. |
A few years later, in 1991, I acquired a second Pacer from an elderly woman (Delores Jacob) whose fading sight prevented her from driving. "Bitsy" as she named it, had less than 15,000 miles and, with some polishing, looked to be a showroom example of a 1976 Pacer coupe with a two-toned paint job. For many years after, I would drive one Pacer for a month and then switch to the other for the next month. One insurance policy covered them both as when one wasn't being driven, it was garaged.
Regarding the oft-mentioned comments on the Pacer's "ugly" design, I'm truly mystified. Just look at all the mediocre homogenous car designs on the road that have no inspiration or character. And what about SUVs? How could people put down the Pacer but crave a monstrosity like the Cadillac Escalade, the Ford Explorer or any number of these glorified trucks? All I can do is shrug my shoulders at the fickle aesthetic tastes of the general public.
Seeing the perplexed reactions of people when I told them that I owned 2 AMC Pacers was a great pleasure. Back then there was just a smattering of Pacers that I'd see while cab driving and I decided to write a "Short History of the Pacer" to put on the windshields so that their owners might appreciate the uniqueness of what they were driving.
---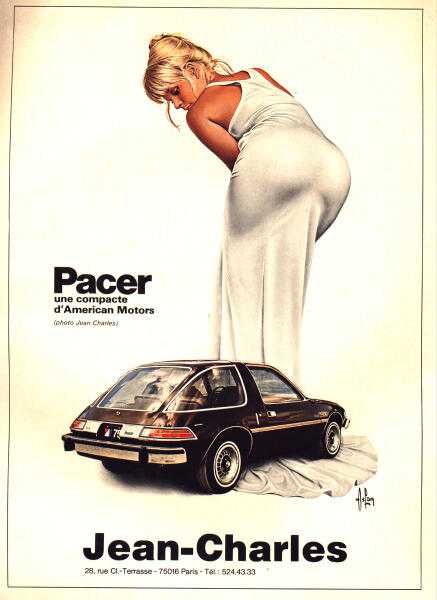 A SHORT HISTORY OF THE AMC PACER
In the early 1970s, American Motors Corporation needed something to catch the public's imagination. They were continuing to be the underdog of the automotive industry, constantly battling to stay alive. They wanted to build a completely new kind of car, a car of the future with a new engine and new design unlike anything on the road. Such a car couldn't emerge from the Big Three where conservatism reigned and designs were bogged down in large committees. There was a ripeness for change, different attitudes and life styles. Small imports led the way to more sensibly produced vehicles but Americans had trouble giving up their preference for huge sheet metal monsters. In 1971 Dick Teague of AMC design drew an offhand sketch of what looked like an egg on wheels and the idea of the Pacer was hatched.

Prototype model for the Pacer. Many varieties were built before the final design was chosen
The new car (originally dubbed "Amigo") was to have the interior room and feel of a big car but the exterior compactness of a small one. It was to have the revolutionary Wankel rotary engine and a host of unique features. It was to be aerodynamic, with form mirroring function in a stunning and noticeable way.
AMC had to rely on its competition to build mechanical parts for the car. GM was to engineer the rotary engine but the project was scrapped just as, in 1974, the Pacer's body was to go to pressing. As a result, the old standby in-line 6 cylinder 232 cid engine was shoehorned into the engine compartment and the engineering breakthrough was compromised. Even so, there were new changes that separated the Pacer mechanically from the rest of the AMC line. The entire engine and front suspension were connected to a rubber isolated crossmember to produce a very smooth quiet ride. Rack and pinion steering gave the Pacer precise feel and maneuverability.
With regard to its styling, the Pacer stood out completely from every other car of its time. The short wheelbase and very wide track were distinctive. An abundance of curved glass gave the car a bubble-like futuristic look and afforded excellent visibility from the inside. It had spacious leg room and lavish head room. The passenger door was four inches longer than the driver's door to allow back seat passengers easy entry from the curb. The short front hood sloped down to allow the driver an unencumbered view of the road.
Although the Pacer was expensive to produce (it cost $60 million in tooling and related expenses) the controversial gamble paid off for the first three years. Buyers were singles, families, young, old, those who liked unique cars, those who liked practical cars. In 1976 Carl Green Enterprises along with Randall Engineering began designing Pacer customizing kits with flared fenders, spoilers, wide tires and powerful V-8 engines for the racing crowd. As far as stock dealer options, two barrel carburetors were offered, boosting horse power to 125. A 4-speed manual floor shift transmission and full instrumentation were also available.
| | | A Carl Green modified Pacer kit with sculpted wheel flairs and a 401 V-8! |
| --- | --- | --- |
In 1977 the Pacer wagon was introduced. Dick Teague managed to add only 76 pounds to the weight of the car and five inches of length but these small changes increased the cargo space from 29 cubic feet to 47.7 cubic feet. The rear lift gate was also widened significantly for ease of loading cargo.
| | |
| --- | --- |
| | The Pacer Wagon had a less sloped design in the back that opened up the cargo space significantly |
In 1978 the Pacer was offered with a small 5.0 V-8 engine, improving acceleration from zero to 60 mph. It could now be done in 10 seconds. In order to accommodate this engine, a new hood with a higher profile grille was designed. However, Pacer sales dropped off dramatically that year. The availability of small foreign cars with significantly better gas mileage presented strong competition. The American public was becoming adjusted to smaller lighter automobiles. AMC with its older style engineering couldn't match the German and Japanese imports in these categories.
In 1979 AMC was bending over backwards to interest the public in the Pacer. With the Limited Edition, they offered not only a V-8 engine, but leather interior, power windows and locks, padded door panels and padded headliner, cruise control, tilt steering wheel and dual remote mirrors. Even with all of these features, only 7,000 Pacers were produced and many of these were sold as 1980 models when the Kenosha Pacer Plant was retooled to build the new four-wheel drive Eagle. The public had lost interest in this once innovative strange little car.
---
For those who might consider owning a Pacer, here are some pointers.
As AMC cars were not considered high resale items, many owners did not bother to keep their cars in top shape. There were only a few who realized the beauty of the Pacer's design and kept their vehicles well serviced and garaged. Look for Pacers from these owners. Unless you are a gear head who loves to work on old cars, stay clear of the TLC offerings on ebay or the classifieds.
The Pacer is actually a pretty safe transport for it's time. Though devoid of modern features such as ABS brakes or air bags, the large doors bulge out with a sizable steel beam running through them to protect from side impact collisions. The bumpers can take a powerful blow and absorb most of the shock from a rear end collision. I know this because I was rear ended once in each Pacer by cars going full speed down a freeway exit ramp.
MPG, though average for a 1970s vehicle of it's weight is not up to modern compact car standards (though still better than many of today's SUVs). A 2 barrel carburetor is the preferred configuration to counter the car's heft, though the single barrel has slightly better MPG. The 304 V8 is terrific on the open highway but not worth the gas consumption in crowded urban conditions.
Look out for rust at the bottoms of doors, windows and around the rear license plate area. Again, a garaged Pacer is much better, not only for this but also minimizing sun damaged interiors.

Pacer Links:
AMC History : Gives a history of the car company that made the Pacer
AMC Pacer : The best source for Pacer info
Yahoo AMC Pacer fan club : for current Pacer news and technical advice
Return to Steve Mobia's home page