David Warren, the first to ignite the Burning Man at Black Rock in 1990, a founding member of the San Francisco Suicide Club and longtime operator of the Camera Obscura at Ocean Beach, was living outdoors behind a ring of rocks at Carlos Bee Park in Castro Valley California for several years. His father's house was once on that property and he played outside there as a child. The estate was later donated to the city and the house moved but Dave, now over seventy, gravitated back. Due to Dave's unfortunate lifelong alcoholism, he had drifted into a homeless existance at the park. On 7-26/08 I received a message from Richard Tuck (who operates Playland Not at the Beach in El Cerrito California) speculating that David Warren was no longer alive because he failed to make the monthly payments to a storage locker in Santa Rosa. Complete text of Tuck's message is at the bottom of the page.
Recently I received a message from an old friend of Daves that it appears Dave Warren died January 2, 2009 and that his last contact address was in Oakland California. Cause of death was pneumonia, complicated by dementia.
The David T. Warren memorial service/celebration took place on JANUARY 2, 2010 which was the one year anniversary of Dave's death and by astounding coincidence, the same day of the year as the formation of the SF Suicide Club!
The memorial was held at Playland Not-At-The-Beach through Richard Tuck's generosity and included movies where Dave appeared as well as a slideshow of historic photos and a display of writings, newspaper clippings and objects of interest.
An outdoor presentation heralded by a bevy of accordionists included readings from Dave's writings accompanied by performer Bob Lesoine who had a show with Dave back in the late 1970s. Berry Brilliant recounted his friendship with Dave while performing a magic act with a rope. Several people told their fond (or just peculiar) memories of Dave and we were pleased to have fire eaters Laura Chenault and Jon Alloway conclude while a special song written by jazz singer Phat Man Dee accompanied their display.
For those who couldn't attend, the following materials can be accessed:
R. J. Mololepozy: The song written about Dave's alter ego with included readings.
The Ballad of Dave Warren: A song written and performed by Phat Man Dee
Worlds of Warren: The complete video compilation that was run at the memorial.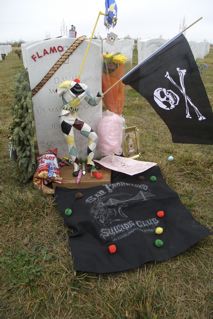 I'm also interested in having an online "Museum of the Inconsequential" with examples of his drawings and writings. More on this later.